Category Archives:
Memoirs.Funny Books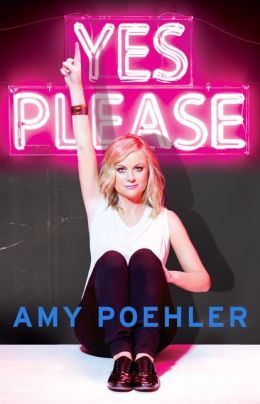 Buying Links : Amazon | Barnes&Noble | Book Depository |  Kobo 
Synopsis : IN A PERFECT WORLD…
We'd get to hang out with Amy Poehler, watching dumb movies, listening to music, and swapping tales about our coworkers and difficult childhoods. Because in a perfect world, we'd all be friends with Amy — someone who seems so fun, is full of interesting stories, tells great jokes, and offers plenty of advice and wisdom (the useful kind, not the annoying kind you didn't ask for, anyway). Unfortunately, between her Golden Globe-winning role on Parks and Recreation, work as a producer and director, place as one of the most beloved SNL alumni and cofounder of the Upright Citizens Brigade, involvement with the website Smart Girls at the Party, frequent turns as acting double for Meryl Streep, and her other gig as the mom of two young sons, she's not available for movie night.
Okay.So. If you're not the kind of person who gets offended easily and treats things with sarcasm and loves to laugh a lot, then this book is just the right thing for you.
Buy Book : Amazon | Barnes & Noble| Book Depository | IndieBound
Synopsis: "Dove Glitch is embarrassed about everything above her knees and below her belly button. When she has to fill a delicate, embarrassing prescription the last thing she needs is a sexy-as-hell (and brand spanking new) pharmacist behind the counter.
Johnson Fitzwell's first day of his dream career also happens to coincide with the exact moment Dove needs her feminine meds filled. His glorious voice is way too loud–as in, he should be counting down the hits with Ryan Seacrest kind of loud. Thanks to Johnson's handsome face and gorgeous jaw line, Dove dives headlong into her waking nightmare and asks for a vagina-scented cream. Read the rest of this entry →
Today's memoir recommendation comes from one of the most appreciated and loved actress/author in the world which goes by the name Betty White. If you're into this genre of books, then this one's totally for you.
The book in question is none other than "If You Ask Me: And Of Course You Won't ".
Buy Links
Amazon | Barnes&Noble | Book Depository | Kobo
Synopsis : "It-girl Betty White delivers a hilarious, slyly profound take on love, life, celebrity, and everything in between.
Drawing from a lifetime of lessons learned, seven-time Emmy winner Betty White's wit and wisdom take center stage as she tackles topics like friendship, romantic love, aging, television, fans, love for animals, and the brave new world of celebrity. If You Ask Me mixes her thoughtful observations with humorous stories from a seven- decade career in Hollywood. Longtime fans and new fans alike will relish Betty's candid take on everything from her rumored crush on Robert Redford (true) to her beauty regimen ("I have no idea what color my hair is and I never intend to find out") to the Facebook campaign that helped persuade her to host Saturday Night Live despite her having declined the hosting job three times already. Read the rest of this entry →