Movie Review : Crimson Peak
BEWARE OF SPOILERS !!! IN CASE YOU HAVEN'T SEEN THIS MOVIE YET, I ADVISE YOU DO SO – OR NOT. THAT DEPENDS ON HOW MUCH SUSPENSE YOUR HEART CAN TAKE ! 🙂
I've been wanting to see it ever since the poster with the premiere has come into my view one day when I was heading to work. Ever since, I was like : Okay. This sounds like a freaking good horror movie and I really need to see it. 
It has been a while since I last seen a good horror movie that would not make me feel sick to my stomach. These days is hard to find a horror movie that does not include someone's insides being taken out or other gross things like this. I used to watch those too at some point, but I really got tired of the constant gut spilling on a highway while running like crazy from a mentally ill guy that chases an innocent someone with a chainsaw in his hand. I mean, COME ON ALREADY ! Those are not horror movies, those are movies that help you puke when that sticking your finger down your throat doesn't seem to work.
So…To be honest, this movie really gave me the chills. It was good. Like damn good. But that is just my opinion. I had my heart in my throat at some points.   Actually it got stuck there, since the beginning of the movie. The effects were great, the cast real good and the storyline….well it was…something else indeed. I liked that it had a lot of action and it kept me guessing.
Only one question arises. HOW COULD YOU PUT CHARLIE HUNNAM IN SUCH A MOVIE ?!? HOW COULD YOU ?!? You don't just put a baby doll like him in a movie full of twisted people.  Ughhhh !! Not to mention the heartache I felt when Edith refused to join the Ball with him and went with…that fake or not so fake baronet named Thomas. Suspicious guy if you'd ask me. I didn't like him not one bit. I guess his face gave him away. And my gut was right about my not liking him…or his god damn psychotic sister.
It seems that after the Ball, she slowly but surely starts to fall for him.  Edith's father asks a detective to get info's about the Sharpe brothers. Deep, dark secrets are coming out slowly and he wants nothing more than for them to leave once and for all on two conditions, among which one of them was for Thomas to break his daughter's heart. And how else  can he succeed, if not by  destroying her writing dream telling her that she doesn't know what love and hurt feel like and that she is nothing more than just a spoiled child. Later on, her father is brutally murdered by – I will let you pick your best guess – someone and she falls back into Thomas' arms which will lead to an actual wedding. But since Alan McMichael  won't leave things be. He'll do anything to get her out of Allerdale Hall aka Crimson Peak.
Actually, Allerdale Hall is the place where Edith learns step by step who Thomas and her sister-in-law Lucille really are, as she is driven both by curiosity and the ghosts that wonder aorund the place. And speaking of ghosts…I've never seen other gross ghosts in my life. This has totally ruined my whole view of them. Be it a movie or not.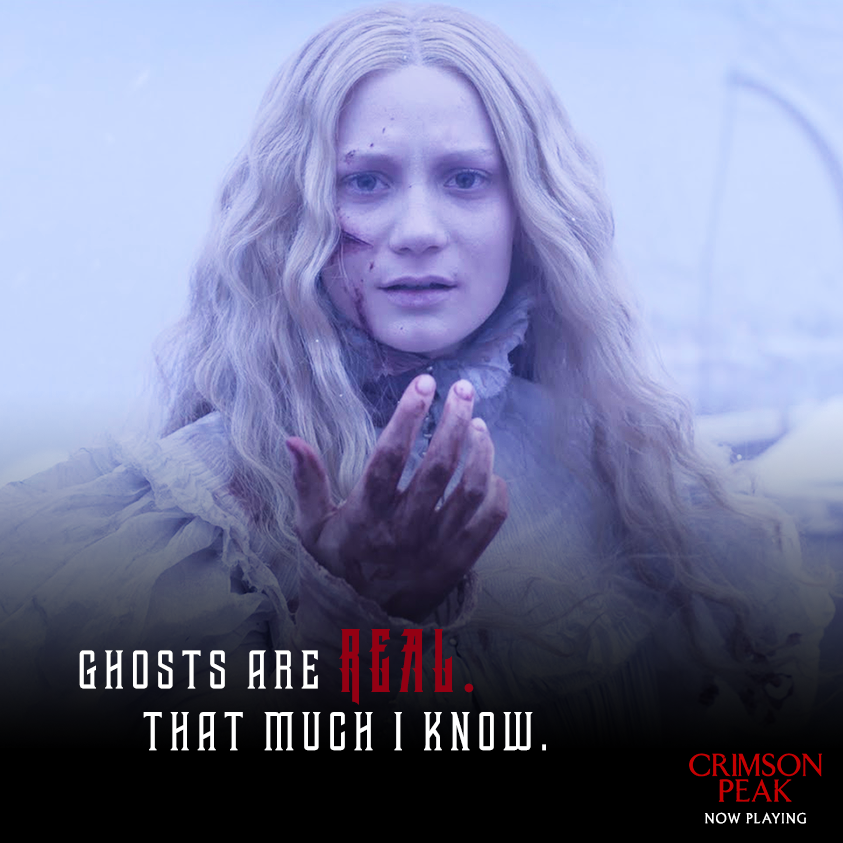 Anyhoo, the movie also has some cat fight so to say. One I enjoyed a lot since I couldn't stand that cold psychotic bitch of a sister-in-law and not only once have I found myself yelling at the monitor for Edith to stuck that shovel in her head and get it over with.
Now. I don't know about you, but I thoroughly enjoyed this shiver inducing – pulse accelerating – nightmare giving movie.
My Rating :