Hot This Autumn
1. Carry On by Rainbow Rowell
 Expected publication: October 6th 2015 by St. Martin's Griffin
BLURB :
Rainbow Rowell continues to break boundaries with Carry On, an epic fantasy following the triumphs and heartaches of Simon and Baz from her beloved bestseller Fangirl.
Simon Snow just wants to relax and savor his last year at the Watford School of Magicks, but no one will let him. His girlfriend broke up with him, his best friend is a pest, and his mentor keeps trying to hide him away in the mountains where maybe he'll be safe. Simon can't even enjoy the fact that his roommate and longtime nemesis is missing, because he can't stop worrying about the evil git. Plus there are ghosts. And vampires. And actual evil things trying to shut Simon down. When you're the most powerful magician the world has ever known, you never get to relax and savor anything.
2. The Rose Society (The Young Elites #2) by Marie Lu
 Expected publication: October 13th 2015 by G.P. Putnam's Sons Books for Young Readers (first published October 6th 2015)
BLURB : Once upon a time, a girl had a father, a prince, a society of friends. Then they betrayed her, and she destroyed them all.
Adelina Amouteru's heart has suffered at the hands of both family and friends, turning her down the bitter path of revenge. Now known and feared as the White Wolf, she and her sister flee Kenettra to find other Young Elites in the hopes of building her own army of allies. Her goal: to strike down the Inquisition Axis, the white-cloaked soldiers that murdered her love, the Crown Prince Enzo Valenciano.
But Adelina is no heroine. Her powers, fed only by fear and hate, have started to grow beyond her control. She does not trust her newfound Elite friends. Teren Santoro, leader of the Inquisition, wants her dead. And her former friends, Raffaele and the Dagger Society, want to stop her thirst for vengeance. Adelina struggles to cling to the good within her. But how can someone be good, when her very existence depends on darkness?
3. Ice Like Fire (Snow Like Ashes #2) by Sara Raasch
 Expected publication: October 13th 2015 by Balzer + Bray
BLURB : It's been three months since the Winterians were freed and Spring's king, Angra, disappeared—thanks largely to the help of Cordell.
Meira just wants her people to be safe. When Cordellan debt forces the Winterians to dig their mines for payment, they unearth something powerful and possibly dangerous: Primoria's lost chasm of magic. Theron sees this find as an opportunity—with this much magic, the world can finally stand against threats like Angra. But Meira fears the danger the chasm poses—the last time the world had access to so much magic, it spawned the Decay. So when the king of Cordell orders the two on a mission across the kingdoms of Primoria to discover the chasm's secrets, Meira plans to use the trip to garner support to keep the chasm shut and Winter safe—even if it means clashing with Theron. But can she do so without endangering the people she loves?
Mather just wants to be free. The horrors inflicted on the Winterians hang fresh and raw in Januari—leaving Winter vulnerable to Cordell's growing oppression. When Meira leaves to search for allies, he decides to take Winter's security into his own hands. Can he rebuild his broken kingdom and protect them from new threats?
4. The Favorite (The Selection #2.6) by Kiera Cass
 Expected publication: October 6th 2015 by HarperTeen
BLURB : 
While America Singer's heart was torn between Aspen and Prince Maxon, her friend Marlee knew exactly what she wanted—and paid the price.
Revisit the captivating world of Kiera Cass's #1 New York Times bestselling Selection series in this digital original novella. Told from Marlee's point of view, this all-new 64-page story returns to the fateful Halloween when Marlee and Carter were discovered, and reveals how that night—and Prince Maxon—changed their lives forever.
The Favorite also features a teaser to The Heir, the fourth novel in the Selection series !
5.  A Madness So Discreet by Mindy McGinnis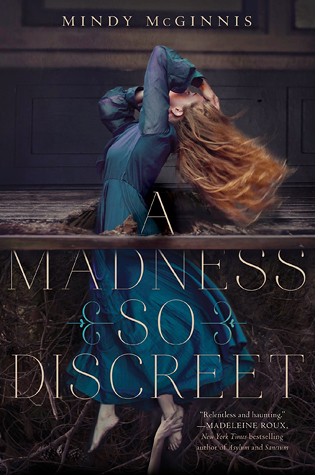 Expected publication: October 6th 2015 by Katherine Tegen Books
BLURB : Grace Mae knows madness.
She keeps it locked away, along with her voice, trapped deep inside a brilliant mind that cannot forget horrific family secrets. Those secrets, along with the bulge in her belly, land her in a Boston insane asylum.
When her voice returns in a burst of violence, Grace is banished to the dark cellars, where her mind is discovered by a visiting doctor who dabbles in the new study of criminal psychology. With her keen eyes and sharp memory, Grace will make the perfect assistant at crime scenes. Escaping from Boston to the safety of an ethical Ohio asylum, Grace finds friendship and hope, hints of a life she should have had. But gruesome nights bring Grace and the doctor into the circle of a killer who stalks young women. Grace, continuing to operate under the cloak of madness, must hunt a murderer while she confronts the demons in her own past.
6.  A Thousand Nights by E.K. Johnston
 Expected publication: October 6th 2015 by Disney Hyperion
BLURB : 
Lo-Melkhiin killed three hundred girls before he came to her village, looking for a wife. When she sees the dust cloud on the horizon, she knows he has arrived. She knows he will want the loveliest girl: her sister. She vows she will not let her be next.
And so she is taken in her sister's place, and she believes death will soon follow. Lo-Melkhiin's court is a dangerous palace filled with pretty things: intricate statues with wretched eyes, exquisite threads to weave the most beautiful garments. She sees everything as if for the last time.But the first sun rises and sets, and she is not dead. Night after night, Lo-Melkhiin comes to her and listens to the stories she tells, and day after day she is awoken by the sunrise. Exploring the palace, she begins to unlock years of fear that have tormented and silenced a kingdom. Lo-Melkhiin was not always a cruel ruler. Something went wrong.
Far away, in their village, her sister is mourning. Through her pain, she calls upon the desert winds, conjuring a subtle unseen magic, and something besides death stirs the air….
7. Persuasion (The Heirs of Watson Island #2) by Martina Boone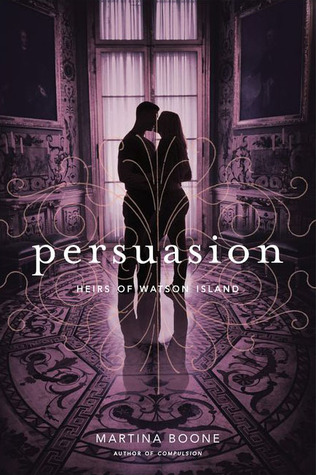 Expected publication: October 27th 2015 by Simon Pulse
BLURB : Grieving the death of her godfather and haunted by her cousin Cassie's betrayal, Barrie returns from a trip to San Francisco to find the Watson plantation under siege. Ghost-hunters hope to glimpse the ancient spirit who sets the river on fire each night, and reporters chase rumors of a stolen shipment of Civil War gold that may be hidden at Colesworth Place. The chaos turns dangerous as Cassie hires a team of archeologists to excavate beneath the mansion ruins. Because more is buried there than treasure.
A stranger filled with magic arrives at Watson's Landing claiming that the key to the Watson and Beaufort gifts—and the Colesworth curse—also lies beneath the mansion. With a mix of threats and promises, the man convinces Barrie and Cassie to cast a spell there at midnight. But what he conjures may have deadly consequences.
8. Ms. Manwhore (Manwhore #2.5) by Katy Evans
 Expected publication: October 5th 2015
BLURB :
What lies ahead for Chicago's most envied couple, Malcolm Saint and Rachel Livingston?
Sparks flew between them in MANWHORE.
Separated by deception, the intensity and heat of their attraction turned up in MANWHORE +1.
Will Chicago's wealthiest and most notorious player finally settle down, or will one woman never be enough?
Find out in MS. MANWHORE, the ultimate conclusion to their electric, breathtaking story.
9. Forbidden Flaws by Pepper Winters
 Expected publication: October 30th 2015
BLURB : She's forbidden.
Saffron Carlton is the darling of the big screen, starlet on the red carpet, and wife of mega producer Felix Carlton. Her life seems perfect with her overflowing bank balance, adoring fans, and luxury homes around the world. Everyone thinks they know her. But no one truly does.
He's flawed.
Raised in squalor, fed on violence and poverty, Cas Smith knows the underbelly of the world. He's not looking for fame or fortune. He's looking for the woman who ran from him all those years ago.
He wants her.
She ran from him.
Now she's forbidden.
What happens when forbidden and flawed collide?
Total annihilation.
11. First & Then by Emma Mills
 Expected publication: October 13th 2015 by Henry Holt and Co. (BYR)
BLURB : Pride and Prejudice meets Friday Night Lights in this contemporary novel about falling in love with the unexpected boy, with a new brother, and with yourself.
Devon Tennyson wouldn't change a thing. She's happy watching Friday night games from the bleachers, silently crushing on best friend Cas, and blissfully ignoring the future after high school. But the universe has other plans. It delivers Devon's cousin Foster, an unrepentant social outlier with a surprising talent for football, and the obnoxiously superior and maddeningly attractive star running back, Ezra, right where she doesn't want them first into her P.E. class and then into every other aspect of her life.
12. These Shallow Graves by Jennifer Donnelly
 Expected publication: October 27th 2015 by Random House Delacorte
BLURB : Set in gilded age New York, These Shallow Graves follows the story of Josephine Montfort, an American aristocrat. Jo lives a life of old-money ease. Not much is expected of her other than to look good and marry well. But when her father dies due to an accidental gunshot, the gilding on Jo's world starts to tarnish. With the help of a handsome and brash reporter, and a young medical student who moonlights in the city morgue, Jo uncovers the truth behind her father's death and learns that if you're going to bury the past, you'd better bury it deep.
13. Girl Online On Tour (Girl Online #2) by Zoe Sugg
 Expected publication: October 22nd 2015 by Keywords Press (first published October 20th 2015)
BLURB : Penny joins her rock-star boyfriend, Noah, on his European music tour.
Penny's bags are packed.
When Noah invites Penny on his European music tour, she can't wait to spend time with her rock-god-tastic boyfriend.
But, between Noah's jam-packed schedule, less-than-welcoming bandmates and threatening messages from jealous fans, Penny wonders whether she's really cut out for life on tour. She can't help but miss her family, her best friend Elliot . . . and her blog, Girl Online.
Can Penny learn to balance life and love on the road, or will she lose everything in pursuit of the perfect summer?
14. Underneath Everything by Marcy Beller Paul
 Expected publication: October 27th 2015 by Balzer + Bray
BLURB : Mattie shouldn't be at the bonfire. She should be finding new maps for her collection, hanging out with Kris, and steering clear of almost everyone else, especially Jolene. After all, Mattie and Kris dropped off the social scene the summer after sophomore year for a reason.
But now Mattie is a senior, and she's sick of missing things. So here she is.
And there's Jolene: Beautiful. Captivating. Just like the stories she wove. Mattie would know; she used to star in them. She and Jolene were best friends. Mattie has the scar on her palm to prove it, and Jolene has everything else, including Hudson.
But when Mattie runs into Hudson and gets a glimpse of what could have been, she decides to take it all back: the boyfriend, the friends, the life she was supposed to live. Problem is, Mattie can't figure out where Jolene ends and she begins.
Because there's something Mattie hasn't told anyone—she walked away from Jolene over a year ago, but she never really left.
15. What We Left Behind by Robin Talley
 Expected publication: October 27th 2015 by Harlequin Teen (first published October 22nd 2015)
BLURB : Toni and Gretchen are the couple everyone envied in high school. They've been together forever. They never fight. They're deeply, hopelessly in love. When they separate for their first year at college—Toni to Harvard and Gretchen to NYU—they're sure they'll be fine. Where other long-distance relationships have fallen apart, their relationship will surely thrive.
The reality of being apart, however, is a lot different than they expected. As Toni, who identifies as genderqueer, falls in with a group of transgender upperclassmen and immediately finds a sense of belonging that has always been missing, Gretchen struggles to remember who she is outside their relationship.
While Toni worries that Gretchen, who is not trans, just won't understand what is going on, Gretchen begins to wonder where she fits in Toni's life. As distance and Toni's shifting gender identity begins to wear on their relationship, the couple must decide—have they grown apart for good, or is love enough to keep them together?
16. Rogue (Relentless #3) by Karen Lynch
 Expected publication: October 27th 2015 by Karen Lynch
BLURB : Sara Grey is done hiding and done being afraid. The Master thinks he has her running scared, but she's taking matters into her own hands and taking her life back. With the help of her friends, she sets out to find the one person who can answer her questions about her past, and who may be able to lead them to the Master.
On her journey, Sara faces new challenges and dangers, and learns that the world of good and evil is not as clear cut as she had believed. She makes new friends, unexpected allies, and reconnects with people from her past. As her powers continue to change and grow, she transforms from a struggling girl into a strong young warrior.
But at what cost? How much is Sara willing to sacrifice in her need for independence and her quest for the truth? And will her newfound strength be enough to save her and the people she loves when she finally comes face-to-face with her powerful nemesis? Nothing could have prepared her for what is to come, and it will take everything in her to survive the final test of courage and love.
17. Velvet Undercover by Teri Brown
 Expected publication: October 20th 2015 by Balzer + Bray
BLURB : Samantha Donaldson's family has always done its duty for the British Crown. In the midst of World War I, seventeen-year-old Sam follows in their footsteps, serving her country from the homefront as a Girl Guide and messenger for the intelligence organization MI5. After her father disappears on a diplomatic mission, she continues their studies of languages, high-level mathematics, and complex puzzles and codes, hoping to make him proud.
When Sam is asked to join the famed women's spy group La Dame Blanche she's torn—this could be the adventure she's dreamed of, but how can she abandon her mother, who has already lost a husband to the war? But when her handlers reveal shocking news, Sam realizes there's no way she can refuse the exciting and dangerous opportunity…
18. See Me by Nicholas Sparks
 Expected publication: October 13th 2015 by Grand Central Publishing
BLURB : See me just as I see you . . .
Colin Hancock is giving his second chance his best shot. With a history of violence and bad decisions behind him and the threat of prison dogging his every step, he's determined to walk a straight line. To Colin, that means applying himself single-mindedly toward his teaching degree and avoiding everything that proved destructive in his earlier life. Reminding himself daily of his hard-earned lessons, the last thing he is looking for is a serious relationship.
Maria Sanchez, the hardworking daughter of Mexican immigrants, is the picture of conventional success. With a degree from Duke Law School and a job at a prestigious firm in Wilmington, she is a dark-haired beauty with a seemingly flawless professional track record. And yet Maria has a traumatic history of her own, one that compelled her to return to her hometown and left her questioning so much of what she once believed.
A chance encounter on a rain-swept road will alter the course of both Colin and Maria's lives, challenging deeply held assumptions about each other and ultimately, themselves. As love unexpectedly takes hold between them, they dare to envision what a future together could possibly look like . . . until menacing reminders of events in Maria's past begin to surface.
As a series of threatening incidents wreaks chaos in Maria's life, Maria and Colin will be tested in increasingly terrifying ways. Will demons from their past destroy the tenuous relationship they've begun to build, or will their love protect them, even in the darkest hour?
19. Irresistibly Yours (Oxford #1) by Lauren Layne
 Expected publication: October 6th 2015 by Loveswept
BLURB : Meet the men of Oxford magazine! In the first captivating spin-off of Lauren Layne's Sex, Love & Stiletto series, a not-so-friendly battle of the sexes turns into a scorching office romance.
Hotshot sports editor Cole Sharpe has been freelancing for Oxford for years, so when he hears about a staff position opening up, he figures he's got the inside track. Then his boss drops a bombshell: Cole has competition. Female competition, in the form of a fresh-faced tomboy who can hang with the dudes—and write circles around them, too. Cole usually likes his women flirty and curvy, but he takes a special interest in his skinny, sassy rival, if only to keep an eye on her. And soon, he can't take his eyes off her.
Penelope Pope knows all too well that she comes off as just one of the guys. Since she's learned that wanting more usually leads to disappointment, Penelope's resigned to sitting on the sidelines when it comes to love. So why does Cole make her want to get back in the game? The man is as arrogant as he is handsome. He probably sees her as nothing more than a barrier to his dream job. But when an unexpected kiss turns into a night of irresistible passion, Penelope has to figure out whether they're just fooling around—or starting something real.
Includes a special message from the editor, as well as an excerpt from another Loveswept title.
20. The Queen (The Original Sinners #8) by Tiffany Reisz
 Expected publication: October 27th 2015 by Mira
BLURB : Once upon a time, Nora and Søren made a fateful deal—if he gave her everything, she would give him forever.
The time has finally come to keep their promises.
Out of money and out of options after her year-long exile, Eleanor Schreiber agrees to join forces with Kingsley Edge, the king of kink. After her first taste of power as a Dominant, Eleanor buries her old submissive self and transforms into Mistress Nora, the Red Queen. With the help of a mysterious young man with a job even more illicit than her own, Nora squares off against a cunning rival in her quest to become the most respected, the most feared Dominatrix in the Underground.
While new lovers and the sweet taste of freedom intoxicate Nora, she is tempted time and time again by Søren, her only love and the one man who refuses to bow to her. But when Søren accepts a new church assignment in a dangerous country, she must make an agonizing choice—will the queen keep her throne and let her lover go, or trade in her crown for Søren's collar?
With a shattering final confession, the last link in the chain is forged in The Original Sinners saga. It's the closing chapter in a story of salvation, sacrifice and the multitude of scars we collect in the name of ecstasy—and love.
21. Smoke by Catherine McKenzie
 Expected publication: October 20th 2015 by Lake Union
BLURB : After a decade-long career combating wildfires, Elizabeth has traded in for a quieter life with her husband. Now she works as the local arson investigator in a beautiful, quaint town in the Rockies. But that tranquil life vanishes when she and her husband agree to divorce, and when a fire started in nearby Cooper Basin begins to spread rapidly. For Elizabeth, containing a raging wildfire is easier than accepting that her marriage has failed.
For Elizabeth's ex-friend Mindy, who feels disconnected from her husband and teenage children, the fire represents a chance to find a new purpose: helping a man who lost his home to the blaze. But her faith is shattered by a shocking accusation.
As the encroaching inferno threatens the town's residents, Elizabeth and Mindy must discover what will be lost in the fire, and what will be saved.
22. Our Lady of the Ice by Cassandra Rose Clarke
 Expected publication: October 27th 2015 by Saga Press
BLURB : 
Hope City, Antarctica. The southernmost city in the world, with only a glass dome and a faltering infrastructure to protect its citizens from the freezing, ceaseless winds of the Antarctic wilderness. Within this bell jar four people–some human, some not–will shape the future of the city forever:
Eliana Gomez, a female PI looking for a way to the mainland.
Diego Amitrano, the right-hand man to the gangster who controls the city's food come winter.
Marianella Luna, an aristocrat with a dangerous secret.
Sofia, an android who has begun to evolve.
But the city is evolving too, and in the heart of the perilous Antarctic winter, factions will clash, dreams will shatter, and that frozen metropolis just might boil over…
23. The Rest of Us Just Live Here by Patrick Ness
 Expected publication: October 6th 2015 by HarperTeen (first published August 27th 2015)
BLURB : What if you aren't the Chosen One?
The one who's supposed to fight the zombies, or the soul-eating ghosts, or whatever the heck this new thing is, with the blue lights and the death?
What if you're like Mikey? Who just wants to graduate and go to prom and maybe finally work up the courage to ask Henna out before someone goes and blows up the high school. Again.
Because sometimes there are problems bigger than this week's end of the world, and sometimes you just have to find the extraordinary in your ordinary life.
Even if your best friend is worshiped by mountain lions.
24. Pretending to Dance by Diane Chamberlain
 Expected publication: October 6th 2015 by St. Martin's Press
BLURB : 
Molly Arnette is very good at keeping secrets. She lives in San Diego with a husband she adores, and they are trying to adopt a baby because they can't have a child on their own. But the process of adoption brings to light many questions about Molly's past and her family–the family she left behind in North Carolina twenty years before. The mother she says is dead but who is very much alive. The father she adored and whose death sent her running from the small community of Morrison's Ridge. Her own birth mother whose mysterious presence in her family raised so many issues that came to a head. The summer of twenty years ago changed everything for Molly and as the past weaves together with the present story, Molly discovers that she learned to lie in the very family that taught her about pretending. If she learns the truth about her beloved father's death, can she find peace in the present to claim the life she really wants?
25. Everything I Left Unsaid (Everything I Left Unsaid #1) by Molly O'Keefe
 Expected publication: October 13th 2015 by Bantam
BLURB : I didn't think answering someone else's cellphone would change my life. But the stranger with the low, deep voice on the other end of the line tempted me, awakened my body, set me on fire. He was looking for someone else. Instead he found me.
And I found a hot, secret world where I felt alive for the first time.
His name was Dylan, and, strangely, he made me feel safe. Desired. Compelled. Every dark thing he asked me to do, I did. Without question. I longed to meet him, but we were both keeping secrets. And mine were dangerous. If I took the first step, if I got closer to Dylan—emotionally, physically—then I wouldn't be hiding anymore. I would be exposed, with nothing left to surrender but the truth. And my truth could hurt us both.
26. Slaying the Dragon (Deception Duet #2) by T.K. Leigh
  Expected publication: October 2015
BLURB : I should have resisted him, but I couldn't. My addiction to him was all-consuming, the high from his touch unlike any other.
Without him, I couldn't focus, couldn't think, couldn't breathe.
With him, I hated myself for being too weak to fight the devil himself.
And Tyler Burnham was the devil.
He used me.
He lied to me.
But he loved me. And he still does.
Unable to stop thinking about the man who deceived her, Mackenzie Delano struggles to move on and forget that Tyler Burnham ever walked into her life. But she still aches for him, despite his betrayal. Her mind is at war with her heart, a war that could be the difference between living and dying.
Tyler Burnham is lost without Mackenzie. As he contemplates the meaning of everything, he tries to find a way to prove that his feelings for her are true. That he would walk through fire to keep her at his side. That he would sacrifice it all…his career, his fortune, his life…to protect her.
The truth is, he may just have to…
27. Wildflower by Drew Barrymore
  Expected publication: October 27th 2015 by Dutton
BLURB : Award-winning actress Drew Barrymore shares funny, insightful, and profound stories from her past and present told from the place of happiness she's achieved today.
Wildflower is a portrait of Drew's life in stories as she looks back on the adventures, challenges, and incredible experiences of her earlier years. It includes tales of living on her own at 14 (and how laundry may have saved her life), getting stuck in a gas station overhang on a cross country road trip, saying goodbye to her father in a way only he could have understood, and many more adventures and lessons that have led her to the successful, happy, and healthy place she is today. It is the first book Drew has written about her life since the age of 14.
28. Brighter Than the Sun (Charley Davidson #8.5) by Darynda Jones
Expected publication: October 6th 2015 by St. Martin's Press
BLURB : All his life, Reyes Alexander Farrow has suffered the torments of the damned. Only one thing has given him hope: the woman who radiates a light that no mortals can see; a light that only the departed can see…
Told from his point of view, BRIGHTER THAN THE SUN chronicles the first time Reyes ever encountered Charley, and how their relationship has been the one thing that can either save him or doom him.
29. Shattered (LOST #3) by Cynthia Eden
Expected publication: October 27th 2015 by Avon
BLURB : Criminal psychologist Dr. Sarah Jacobs is all too familiar with the kind of bad boys who belong behind bars. But the dark, dangerous man she meets in the New Orleans underworld is a new kind of ruthless, and all too irresistible.
Jax Fontaine doesn't claim to be a good guy, but he's loyal to his own code and brutally honest about what he wants. He and Sarah may be worlds apart, but when they're skin to skin, nothing matters but the heat between them.
And when a deranged killer targets Sarah, Jax will do whatever it takes to keep her safe.
30. Diamonds are Forever (The Secret Diamond Sisters #3) by Michelle Madow
Expected publication: October 27th 2015 by Harlequin Teen
BLURB : It's cold outside, but the drama is hot!
The Diamond sisters jet to the mountains for spring break, and Savannah's flirt-mance with an international pop star heats up as her pursuit of stardom succeeds. But is this romance meant to be, or has the right guy been in front of her all along? Meanwhile, Courtney takes the next step with her secret boyfriend—and future stepbrother—and as their parents' wedding approaches, the pressure's on to reveal their relationship.
Peyton's figuring out a plan for her future, but she still feels guilty about getting her former bodyguard fired and wonders if she can get over him in the arms of someone else. But the biggest bombshell will change everything once again, because Madison's ready to tell the huge secret she's uncovered. And with the boy who betrayed her but who could be the love of her life fighting for his own life, she might need the Diamond sisters more than ever.