Upcoming Releases This Month
1. Six of Crows (Six of Crows #1) by Leigh Bardugo
Expected publication : September 29th 2015 by Henry Holt and Company
BLURB : Ketterdam: a bustling hub of international trade where anything can be had for the right price—and no one knows that better than criminal prodigy Kaz Brekker. Kaz is offered a chance at a deadly heist that could make him rich beyond his wildest dreams. But he can't pull it off alone…
A convict with a thirst for revenge.
A sharpshooter who can't walk away from a wager.
A runaway with a privileged past.
A spy known as the Wraith.
A Heartrender using her magic to survive the slums.
A thief with a gift for unlikely escapes.
Six dangerous outcasts. One impossible heist. Kaz's crew is the only thing that might stand between the world and destruction—if they don't kill each other first.
2. After You (Me Before You #2) by Jojo Moyes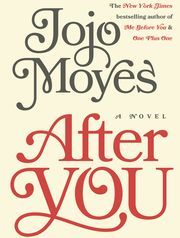 Expected publication : September 29th 2015 by Penguin
BLURB : How do you move on after losing the person you loved? How do you build a life worth living?
Louisa Clark is no longer just an ordinary girl living an ordinary life. After the transformative six months spent with Will Traynor, she is struggling without him. When an extraordinary accident forces Lou to return home to her family, she can't help but feel she's right back where she started.
Her body heals, but Lou herself knows that she needs to be kick-started back to life. Which is how she ends up in a church basement with the members of the Moving On support group, who share insights, laughter, frustrations, and terrible cookies. They will also lead her to the strong, capable Sam Fielding—the paramedic, whose business is life and death, and the one man who might be able to understand her. Then a figure from Will's past appears and hijacks all her plans, propelling her into a very different future. . . .
3. Forever with You (Wait for You #5) by Jennifer L. Armentrout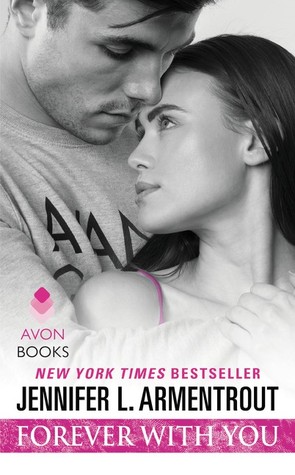 Expected publication: September 29th 2015
BLURB : Some things you just believe in, even if you've never experienced them. For Stephanie, that list includes love. It's out there. Somewhere. Eventually. Meanwhile she's got her job at the mixed martial arts training center and hot flings with gorgeous, temporary guys like Nick. Then a secret brings them closer, opening Steph's eyes to a future she never knew she wanted—until tragedy rips it away.
Nick's self-assured surface shields a past no one needs to know about. His mind-blowing connection with Steph changes all that. As fast as he's knocking down the walls that have kept him commitment-free, she's building them up again, determined to keep the hurt—and Nick—out. But he can't walk away. Not when she's the only one who's ever made him wish for forever . . .
4. Furiously Happy: A Funny Book About Horrible Things by Jenny Lawson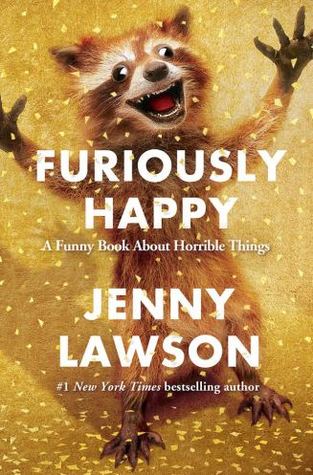 Expected publication: September 22nd 2015 by Flatiron Book
BLURB : For fans of David Sedaris, Tina Fey, and Mindy Kaling-the new book from Jenny Lawson, author of the #1 New York Timesbestseller LET'S PRETEND THIS NEVER HAPPENED.. 
Jenny's first book, LET'S PRETEND THIS NEVER HAPPENED, was ostensibly about family, but deep down it was about celebrating your own weirdness. FURIOUSLY HAPPY is a book about mental illness, but under the surface it's about embracing joy in fantastic and outrageous ways-and who doesn't need a bit more of that ?
5. Until Jax (Until Him #1) by Aurora Rose Reynolds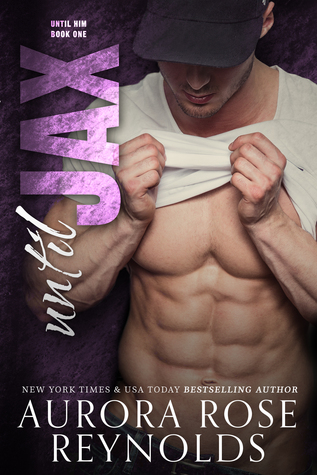 Expected publication: September 29th 2015
BLURB : Ellie Anthony isn't looking for love. She isn't even looking for a man, but when Jax Mayson insists on keeping her and her daughter safe, she's left with no choice but to trust him. Now she just hopes she doesn't get hurt when she falls hard for a guy who's known for breaking hearts.
Jax Mayson knows that Ellie is his BOOM the moment he sees her. When he finds out she has a daughter, he realizes he wants a family, and he will do whatever is necessary to keep both of his girls safe, even if that means facing the demons from his past.
6. Sins of Sevin by Penelope Ward
Expected publication: September 21st 2015
BLURB : What happens when the one you want is the only one you can't have?
My name is Sevin.
Homeschooled and sheltered by my ultra-religious family, I was always taught that lust was a sin.
Elle was the girl who'd been carefully chosen for me.
After a long-distance courtship, I'd be moving into her family's guesthouse so that we could get to know each other in the months before the wedding.
Boundaries were set: no inappropriate touching, no kissing, no sex before marriage.
I'd accepted those rules and my fate.
Until I met the one I wanted to sin with.
That was when restraint became a problem…especially since "the one" wasn't Elle.
It was her sister, Evangeline.
You know what they say about best laid plans.
My name is Sevin, and I have sinned.
Told in alternating points of view, Sins of Sevin is a full-length standalone novel. Contains graphic sexual content and harsh language. Only appropriate for adult readers age 18+. 
7. Sweet Obsession (Sweet Addiction #3) by J. Daniels
Expected publication: September 22nd 2015 by J. Daniels
BLURB : 
Author's Note: Sweet Obsession can be read as a standalone novel.
Everyone knows Brooke Wicks loves to have a good time. She's not interested in getting serious, settling down, or limiting herself to one man. So when she meets the sexy, irresistible Mason King, she sees another opportunity to let loose and go wild. But the gorgeous Aussie isn't interested in just a quick fling with Brooke, and if she wants to get into his bed, she's going to have to do it on his terms.
Loving fast and hard has always been Mason's philosophy. He doesn't want a meaningless connection, he wants it all, and he wants it with Brooke. When she makes her one desire known—to hit it and quit it—Mason wages a plan to ensure Brooke keeps coming back for more. Or so he hopes.
Getting her attention was the easy part. Keeping it might be damn near impossible.
Sweet Obsession is where the Sweet Addiction series meets the Alabama Summer series. 
8. This Monstrous Thing by Mackenzi Lee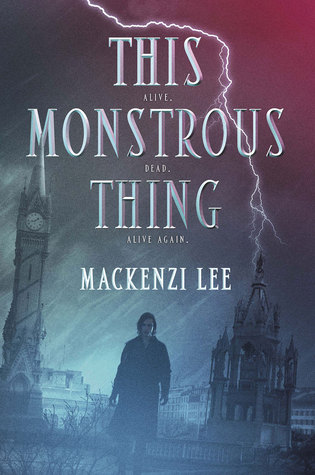 Expected publication: September 22nd 2015 by Katherine Tegen Books
BLURB :  In 1818 Geneva, men built with clockwork parts live hidden away from society, cared for only by illegal mechanics called Shadow Boys. Two years ago, Shadow Boy Alasdair Finch's life shattered to bits.
His brother, Oliver—dead.
His sweetheart, Mary—gone.
His chance to break free of Geneva—lost.
Heart-broken and desperate, Alasdair does the unthinkable: He brings Oliver back from the dead.
But putting back together a broken life is more difficult than mending bones and adding clockwork pieces. Oliver returns more monster than man, and Alasdair's horror further damages the already troubled relationship.
Then comes the publication of Frankenstein and the city intensifies its search for Shadow Boys, aiming to discover the real life doctor and his monster. Alasdair finds refuge with his idol, the brilliant Dr. Geisler, who may offer him a way to escape the dangerous present and his guilt-ridden past, but at a horrible price only Oliver can pay…
9. The Shrunken Head (The Curiosity House #1) by Lauren Oliver
 Expected publication: September 29th 2015 by HarperCollins Children's Books
BLURB : What you will find in this book:
– A rather attractive bearded lady
– Several scandalous murders
– A deliciously disgusting Amazonian shrunken head
– Four extraordinary children with equally extraordinary abilities
– A quite loquacious talking bird
Blessed with extraordinary abilities, orphans Philippa, Sam, and Thomas have grown up happily in Dumfrey's Dime Museum of Freaks, Oddities, and Wonders. But when a fourth child, Max, a knife-
thrower, joins the group, it sets off an unforgettable chain of events. When the museum's Amazonian shrunken head is stolen, the four are determined to get it back. But their search leads them to a series of murders and an explosive secret about their pasts.
This sensational new series combines the unparalleled storytelling gifts of Lauren Oliver with the rich
knowledge of the notorious relics collector H.C. Chester.
What you will NOT find in this book:
– An accountant named Seymour
– A never-ending line at the post office
– Brussel sprouts (shudder)
– A lecture on finishing all your homework on time
– A sweet, gooey story for nice little girls and boys.
10. A Mad Zombie Party (White Rabbit Chronicles #4) by Gena Showalter
 Expected publication: September 29th 2015 by Harlequin Teen
BLURB : The battle rages on.
Ali Bell and Cole Holland's crew of zombie slayers thought they'd won the war against Anima Industries, the evil company responsible for capturing and experimenting on zombies in an effort to discover the secret to immortality. In the last epic clash, the slayers lost many of their crew and closest friends. But Frosty, the ice man himself, has not recovered from one casualty in particular—the love of his life, Kat Parker.
On the path to self-annihilation, Frosty receives a message from beyond—Kat's spirit returns, insisting he partner with rogue slayer Camilla Marks. Frosty will do anything for Kat. Except that. Camilla is the one who betrayed them all, leading to Kat's death.
But when Anima rises from the grave to become a force the slayers may not have the strength to overcome, Frosty, Camilla and all the slayers will have to work together to survive. And one broken slayer will learn that sometimes, the line between hate and attraction is blurred…and the road to redemption isn't through revenge, but in letting go of the past and grabbing hold of the future.
11. Dreamland by Robert L. Anderson
 Expected publication: September 22nd 2015 by HarperTeen
BLURB : Odea Donahue has been able to travel through people's dreams since she was six years old. Her mother taught her the three rules of walking: Never interfere. Never be seen. Never walk the same person's dream more than once. Dea has never questioned her mother, not about the rules, not about the clocks or the mirrors, not about moving from place to place to be one step ahead of the unseen monsters that Dea's mother is certain are right behind them.
Then a mysterious new boy, Connor, comes to town and Dea finally starts to feel normal. As Connor breaks down the walls that she's had up for so long, he gets closer to learning her secret. For the first time she wonders if that's so bad. But when Dea breaks the rules, the boundary between worlds begins to deteriorate. How can she know what's real and what's not?
12.  Desperate Chances (Bad Rep #4) by A. Meredith Walters
 Expected publication: September 28th 2015
 BLURB : Sex changes everything.
And love can turn into an enemy…
Mitch Abrams, the bassist for the popular rock band Generation Rejects, has been in love with Gracie Cook for years. But Gracie, a complicated girl with a lot of baggage, was too blind to see how she felt about the man who had always stood by her.
Until one night of passion brought them closer than they had ever been before.
Feeling off balance and out of control, Gracie does the only thing a girl with self-destructive tendencies can do: end things with Mitch before they can really begin.
So Mitch moves on. With his band, his friends, and a new girlfriend.
Yet he can't seem to forget about the girl who threw his heart away.
13. The Unquiet by Mikaela Everett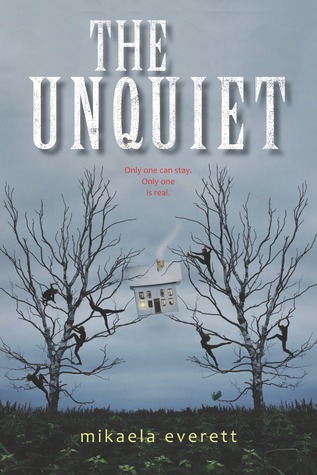 Expected publication: September 22nd 2015 by Greenwillow Books
BLURB : For most of her life, Lirael has been training to kill—and replace—a duplicate version of herself on a parallel Earth. She is the perfect sleeper-soldier. But she's beginning to suspect she is not a good person.
The two Earths are identical in almost every way. Two copies of every city, every building, even every person. But the people from the second Earth know something their duplicates do not—two versions of the same thing cannot exist. They—and their whole planet—are slowly disappearing. Lira has been trained mercilessly since childhood to learn everything she can about her duplicate, to be a ruthless sleeper-assassin who kills that other Lirael and steps seamlessly into her life.
14. Pushing the Limits by Brooke Cumberland
 Expected publication: September 16th 2015 (e-book version)
BLURB : He's my art professor.
I'm his student.
With an electric connection and undeniable chemistry, I know it won't be long until one of us cracks.
When the opportunity arises to pose naked for the entire art class, I can't help the thrill of knowing he'll be watching me.
While they all look past me with their eyes narrowed and concentrated, drawing only the lines and angles of my body, he sees right through me down to my vulnerability.
He sees more than just the physical aspects—he sees me.
That's when I see the struggle in his features as he tries to stay in control.
How do we keep our distance when everything seems to be pulling us together?
What feels so right can only go wrong if we keep pushing the limits.
15. The Thing About Jellyfish by Ali Benjamin
Expected publication: September 22nd 2015 by Little, Brown Books for Young Readers
BLURB : A stunning debut about how grief can open the world in magical ways.
After her best friend dies in a drowning accident, Suzy is convinced that the true cause of the tragedy was a rare jellyfish sting. Retreating into a silent world of imagination, she crafts a plan to prove her theory–even if it means traveling the globe, alone. Suzy's achingly heartfelt journey explores life, death, the astonishing wonder of the universe…and the potential for love and hope right next door.
16. Crenshaw by Katherine Applegate
 Expected publication: September 22nd 2015 by Feiwel & Friends
BLURB : In her first novel since winning the Newbery Medal, Katherine Applegate delivers an unforgettable and magical story about family, friendship, and resilience.
Jackson and his family have fallen on hard times. There's no more money for rent. And not much for food, either. His parents, his little sister, and their dog may have to live in their minivan. Again.
Crenshaw is a cat. He's large, he's outspoken, and he's imaginary. He has come back into Jackson's life to help him. But is an imaginary friend enough to save this family from losing everything?
Beloved author Katherine Applegate proves in unexpected ways that friends matter, whether real or imaginary.
17.  The Allure of Dean Harper (The Allure #2) by R.S. Grey

Expected publication: September 28th 2015

BLURB :
From: LilyNBlack@Gmail.com
To: JosephineKeller@VogueMagazine.com
Subject: You're a flippin' idiot
Good morning my dear, naive friend,
I hope you're enjoying a breakfast of regret and sorrow.
Why?
Because you sent me to work for Dean Harper, aka a control freak in a tailor-made suit. Sure he owns the trendiest restaurants in NYC, but c'mon Jo, his ego makes Kanye West look like the Dalai Lama.
He's the type of guy that only hears the word "no" when it's followed by "don't stop."
Working for Dean Harper would be like selling my soul to the devil…and before you say anything, I don't care if the devil has punch-you-in-the-gut brown eyes and an ass to match. My soul isn't for sale.
Love,
Regretfully yours,
Lily
The Allure of Dean Harper is a full-length standalone romance with overlapping characters from The Allure of Julian Lefray. Both books can be read separately. Chronologically, The Allure of Julian Lefray happens first.
**This book is rated 18+  for explicit sexual situations and language. Reader discretion is advised.**  
18. Not on Fire, but Burning by Greg Hrbek
 Expected publication: September 22nd 2015 by Melville House
BLURB :
Twenty-year-old Skyler saw the incident out her window: Some sort of metalic object hovering over the Golden Gate Bridge just before it collapsed and a mushroom cloud lifted above the city. Like everyone, she ran, but she couldn't outrun the radiation, with her last thoughts being of her beloved baby brother, Dorian, safe in her distant family home.
Flash forward to a post-incident America, where the country has been broken up into territories and Muslims have been herded onto the old Indian reservations in the west, even though no one has determined who set off the explosion that destroyed San Francisco. Twelve-year old Dorian dreams about killing Muslims and about his sister—even though Dorian's parents insist Skyler never existed. Are they still shell-shocked, trying to put the past behind them . . . or is something more sinister going on?
Meanwhile, across the street, Dorian's neighbor adopts a Muslim orphan from the territories. It will set off a series of increasingly terrifying incidents that will lead to either tragedy or redemption for Dorian, as he struggles to prove that his sister existed—and was killed by a terrorist attack.
Not on Fire, but Burning is unlike anything you're read before—not exactly a thriller, not exactly sci-fi, not exactly speculative fiction, but rather a brilliant and absorbing adventure into the dark heart of an America that seems ripped from the headlines. But just as powerfully, it presents a captivating hero: A young boy driven by love to seek the truth, even if it means his deepest beliefs are wrong.
19. Fear Us (Broken Love #3) by B.B. Reid
 Expected publication: September 22nd 2015 (1st e-book edition)
BLURB : KEENAN
It's been four years since I ran away—from home, my brother, and my maybe father. I created a life free of expectations while pretending I wasn't being hunted by all of the above. I managed to stay under the radar all this time… or so I thought. When big brother shows up and saves my ass, I'm forced to face everything I left behind, including her.
SHELDON
It's been four years since I became another statistic. I made a lot of mistakes when it came to Keenan Masters. The first was loving him at all. He took something from me the night he left, and when I told him I still loved him, he told me he'd always hate me. After that, I learned how to be okay… until he came back. Gone was the boy who always knew how to make me laugh, and in his place was a cold, arrogant monster.
20. Zeroes (Zeroes #1) by Scott Westerfeld
 Expected publication: September 24th 2015 by Simon & Schuster Childrens Books (first published September 23rd 2015)
BLURB : Don't call them heroes. But these six Californian teens have powers that set them apart
Ethan aka Scam has a voice inside him that'll say whatever people want to hear, whether it's true or not. Which is handy, except when it isn't – like when the voice starts gabbing in the middle of a bank robbery. The only people who can help are the other Zeroes, who aren't exactly best friends these days.
Enter Nate, aka Bellwether, the group's 'glorious leader.' After Scam's SOS, he pulls the scattered Zeroes back together. But when the rescue blows up in their faces, the Zeroes find themselves propelled into whirlwind encounters with ever more dangerous criminals. At the heart of the chaos they find Kelsie, who can take a crowd in the palm of her hand and tame it or let it loose as she pleases.
Filled with high-stakes action and drama, Zeroes unites three powerhouse authors for the opening installment of a thrilling new series.