June's Most Anticipated Reads
1. Scorched  
by
J. Lynn
Expected publication: June 16th 2015
Synopsis: "Sometimes life leaves a mark…
Most days, Andrea doesn't know whether she wants to kiss Tanner or punch him in the gut. He is seriously hot, with legit bedroom eyes and that firefighter body of his, but he's a major player, and they can't get along for more than a handful of minutes. Until now…."
Expected publication: June 16th 2015
Synopsis: "If you could read my mind, you wouldn't be smiling." 
3. The Book of Speculation 
by
Erika Swyler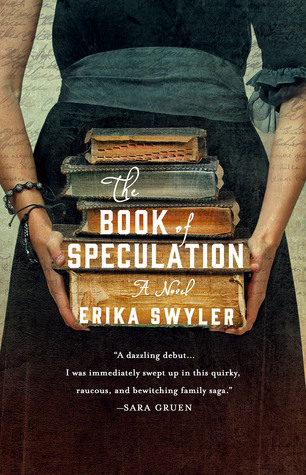 Expected publication: June 23rd 2015
Synopsis : "Simon Watson, a young librarian on the verge of losing his job, lives alone on the Long Island Sound in his family home, a house perched on the edge of a bluff that is slowly crumbling toward the sea. His parents are long dead, his mother having drowned in the water his house overlooks. His younger sister, Enola, works for a traveling carnival reading tarot cards and seldom calls…"
4. The Stars Never Rise (Untitled Series #1) by Rachel Vincent
 Expected publication: June 9th 2015
Synopsis: "Sixteen-year-old Nina Kane should be worrying about her immortal soul, but she's too busy trying to actually survive. Her town's population has been decimated by soul-consuming demons, and souls are in short supply. Watching over her younger sister, Mellie, and scraping together food and money are all that matters. The two of them are a family. They gave up on their deadbeat mom a long time ago.
When Nina discovers that Mellie is keeping a secret that threatens their very existence, she'll do anything to protect her. Because in New Temperance, sins are prosecuted as crimes by the brutal Church and its army of black-robed exorcists. And Mellie's sin has put her in serious trouble…"
5. Vicious Cycle (Vicious Cycle #1) 
by
Katie Ashley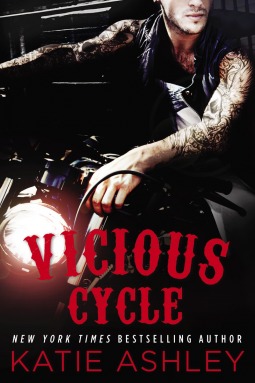 Published :  June 2nd 2015
Synopsis : "Deacon Malloy's life is dedicated to the Hell's Raiders motorcycle club. Tough, hard, and fast with his fists, he serves the group as sergeant at arms. But his devil-may-care approach to life is thrown for a loop when the five-year-old daughter he never knew existed lands on the club steps.
Alexandra Evans is devoted to all her students—but there's always been something about Willow Malloy that tugs at her heart. There's an aura of sadness about her, a girl in need of all the love Alexandra can give. When Willow stops coming to school, Alexandra's search leads to a clubhouse full of bikers…and a father hell-bent on keeping his daughter always within sight…"
 Expected publication: June 23rd 2015
Synopsis : Emmy's best friend, Oliver, reappears after being kidnapped by his father ten years ago. Emmy hopes to pick up their relationship right where it left off. Are they destined to be together? Or has fate irreparably driven them apart?
7.  The Devil You Know 
by
Trish Doller
 Published : June 2nd 2015
Synopsis : Eighteen-year-old Arcadia wants adventure. Living in a tiny Florida town with her dad and four-year-old brother, Cadie spends most of her time working, going to school, and taking care of her family. So when she meets two handsome cousins at a campfire party, she finally has a chance for fun. They invite her and friend to join them on a road trip, and it's just the risk she's been craving-the opportunity to escape. But what starts out as a fun, sexy journey quickly becomes dangerous when she discovers that one of them is not at all who he claims to be. One of them has deadly intentions.
A road trip fling turns terrifying in this contemporary story that will keep readers on the edge of their seats.
8. Sweet Ache (Driven #6) 
by
K. Bromberg
 Published : June 2nd 2015
Synopsis : "Hawkin Play, the bad boy rock star with a good guy heart, has lived a lifetime of cleaning up after his twin brother's mistakes. Hunter's most recent screw-up could land Hawke in jail and risk the band's future. Hawke agrees to guest lecture at a local college to stay in the judge's good graces—and a bet with his bandmate to seduce his sexy teaching assistant is icing on the cake.
Quinlan Westin is harder to bed than Hawke imagined. She knows his type and is determined to avoid the rocker at all costs—even if their attraction runs deeper than simple lust.
Just as Hawke might finally be winning over the girl, his brother has other plans. When Hunter realizes his twin finally has a weakness, he'll stop at nothing to take advantage…"
9. The Invasion of the Tearling (The Queen of the Tearling #2) 
by
Erika Johansen
 Expected publication: June 9th 2015
Synopsis : With each passing day, Kelsea Glynn is growing into her new responsibilities as Queen of the Tearling. By stopping the shipments of slaves to the neighboring kingdom of Mortmesne, she crossed the Red Queen, a brutal ruler whose power derives from dark magic, who is sending her fearsome army into the Tearling to take what is hers. And nothing can stop the invasion.
But as the Mort army draws ever closer, Kelsea develops a mysterious connection to a time before the Crossing, and she finds herself relying on a strange and possibly dangerous ally: a woman named Lily, fighting for her life in a world where being female can feel like a crime. The fate of the Tearling —and that of Kelsea's own soul—may rest with Lily and her story, but Kelsea may not have enough time to find out.
10.  The Summer of Chasing Mermaids 
by
Sarah Ockler
 Published : June 2nd 2015
Synopsis : The youngest of six talented sisters, Elyse d'Abreau was destined for stardom—until a boating accident took everything from her. Now, the most beautiful singer in Tobago can't sing. She can't even speak.
Seeking quiet solitude, Elyse accepts a friend's invitation to Atargatis Cove. Named for the mythical first mermaid, the Oregon seaside town is everything Elyse's home in the Caribbean isn't: An ocean too cold for swimming, parties too tame for singing, and people too polite to pry—except for one…
11.  Summer Secrets 
by
Jane Green
 Expected publication: June 23rd 2015
Synopsis : June, 1998: At twenty seven, Catherine Coombs, also known as Cat, is struggling. She lives in London, works as a journalist, and parties hard. Her lunchtimes consist of several glasses of wine at the bar downstairs in the office, her evenings much the same, swigging the free booze and eating the free food at a different launch or party every night. When she discovers the identity of the father she never knew she had, it sends her into a spiral. She makes mistakes that cost her the budding friendship of the only women who have ever welcomed her. And nothing is ever the same after that.
June, 2014: Cat has finally come to the end of herself. She no longer drinks. She wants to make amends to those she has hurt. Her quest takes her to Nantucket, to the gorgeous summer community where the women she once called family still live. Despite her sins, will they welcome her again? What Cat doesn't realize is that these women, her real father's daughters, have secrets of their own. As the past collides with the present, Cat must confront the darkest things in her own life and uncover the depths of someone's need for revenge.
 Expected publication: June 9th 2015
Synopsis: A teen escapes to a boarding school abroad and falls for a Korean pop star in this fun and fresh romantic novel in the vein of Anna and the French Kiss.
Grace Wilde is running—from the multi-million dollar mansion her record producer father bought, the famous older brother who's topped the country music charts five years in a row, and the mother who blames her for her brother's breakdown. Grace escapes to the farthest place from home she can think of, a boarding school in Korea, hoping for a fresh start.
13. Last Year's Mistake 
by
Gina Ciocca
 Expected publication: June 9th 2015
Synopsis : Before:
Kelsey and David became best friends the summer before freshman year and were inseparable ever after. Until the night a misunderstanding turned Kelsey into the school joke, and everything around her crumbled—including her friendship with David. So when Kelsey's parents decided to move away, she couldn't wait to start over and leave the past behind. Except, David wasn't ready to let her go…
After:
Now it's senior year and Kelsey has a new group of friends, genuine popularity, and a hot boyfriend. Her life is perfect. That is, until David's family moves to town and he shakes up everything. Soon old feelings bubble to the surface and threaten to destroy Kelsey's second chance at happiness. The more time she spends with David, the more she realizes she never truly let him go. And maybe she never wants to.
14. The Sacred Lies of Minnow Bly 
by
Stephanie Oakes
 Expected publication: June 9th 2015
Synopsis : The Kevinian cult has taken everything from seventeen-year-old Minnow: twelve years of her life, her family, her ability to trust.
And when she rebelled, they took away her hands, too.
Now their Prophet has been murdered and their camp set aflame, and it's clear that Minnow knows something—but she's not talking. As she languishes in juvenile detention, she struggles to un-learn everything she has been taught to believe, adjusting to a life behind bars and recounting the events that led up to her incarceration. But when an FBI detective approaches her about making a deal, Minnow sees she can have the freedom she always dreamed of—if she's willing to part with the terrible secrets of her past.
15. Amber to Ashes (Torn Hearts #1) 
by
Gail McHugh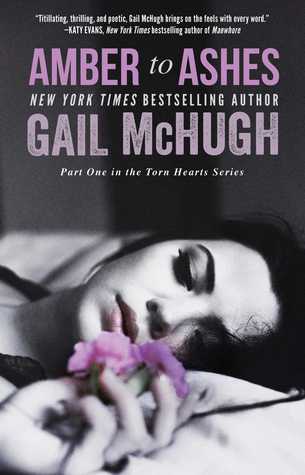 Expected publication: June 9th 2015
Blurb: They were a storm I never saw coming, an unforeseen heartbreak on the edge of a dangerous cliff.
Amber Moretti's life changes in the span of minutes. An orphaned outsider, she is desperate to start fresh the moment she walks onto campus. In the time it takes to cross the university's dining hall, she meets two men who bring color, air, and light to her darkened world.
They became my addiction, each a needle to my next hit, my high.
Brock Cunningham's appeal is dizzying, a potent force Amber can't deny. A green-eyed smooth talker, he instantly attracts Amber. It doesn't take long for him to consume her every thought, her every breath.
Ryder Ashcroft, a blue-eyed, tattooed, and pierced bad boy, turns Amber off immediately—that is, until he kisses her, stealing a piece of her heart, her soul.
They were as opposite as fire and ice, yet I ached for them equally….
16. Out of Time (Nine Minutes #2) 
by
Beth Flynn
 17. Written in My Own Heart's Blood (Outlander #8) 
by
Diana Gabaldon
 Published June 2nd 2015
Synopsis : In June of 1778, the world turns upside-down. The British army withdraws from Philadelphia, George Washington prepares to move from Valley Forge in pursuit, and Jamie Fraser comes back from the dead to discover that his best friend has married Jamie's wife. The ninth Earl of Ellesmere discovers to his horror that he is in fact the illegitimate son of the newly-resurrected Jamie Fraser (a rebel _and_ a Scottish criminal!) and Jamie's nephew Ian Murray discovers that his new-found cousin has an eye for Ian's Quaker betrothed…
18. Elements of Chemistry (Elements of Chemistry #1-3) 
by
Penny Reid
 Published : June 1st 2015
Full novel/continuation of the short story 'Bunsen Burner Bingo' from the Breakaway anthology.
Series Description: Misadventures of the smart and somewhat socially awkward, the Hypothesis series is an innovative experiment of level headed romantic pragmatism in the new adult genre.
Elements of Chemistry is book #1 in the Hypothesis series. Each book is a standalone, full length (110k words), new adult romantic comedy novel. 
 Expected publication: June 15th 2015
Blurb: Dimpled smile of a boy
Hard body of a man
Sings like an angel
Fucks like the devil
I was stuck between a rock(star) and a hard place.
At fifteen, his poster hung on my bedroom wall. At twenty-five his body hovered over mine. Every girl's fantasy became my reality. I was dating a rockstar. Yet I was slowly falling for another man. The problem was—the two men—they shared a tour bus.
Flynn Beckham was the opening act.
Dylan Ryder was the headliner.
What happens when the opening act begins to shine so bright, it seems to dim everything else in its wake?
I'll tell you what happens. Things get ugly.

 Expected publication :  June 2nd 2015
Synopsis : Fairy Tale Survival Rule #32: If you find yourself at the mercy of a wicked witch, sing a romantic ballad and wait for your Prince Charming to save the day.
Yeah, no thanks. Dorthea is completely princed out. Sure being the crown princess of Emerald has its perks—like Glenda Original ball gowns and Hans Christian Louboutin heels. But a forced marriage to the brooding prince Kato is so not what Dorthea had in mind for her enchanted future.
Talk about unhappily ever after…

 Expected publication : June 2nd 2015
Synopsis : For the past five years, Hayley Kincaid and her father, Andy, have been on the road, never staying long in one place as he struggles to escape the demons that have tortured him since his return from Iraq. Now they are back in the town where he grew up so Hayley can attend school. Perhaps, for the first time, Hayley can have a normal life, put aside her own painful memories, even have a relationship with Finn, the hot guy who obviously likes her but is hiding secrets of his own. Will being back home help Andy's PTSD, or will his terrible memories drag him to the edge of hell, and drugs push him over? The Impossible Knife of Memory is Laurie Halse Anderson at her finest: compelling, surprising, and impossible to put down.
22. Sweet Sinful Nights (Sinful Nights #1) 
by
Lauren Blakely
 Expected publication: June 30th 2015
Synopsis : She was the one who got away…
Ten years ago, Brent Nichols let the love of his life slip through his fingers. It's his greatest regret, especially since she's all but disappeared. But when the gorgeous and captivating woman walks into his life unexpectedly, he's determined to win her back. Whatever it takes, he won't make the same mistake twice.
Easier said than done…
Shannon Paige has hardened her heart to the man she was once engaged to be married to. After the way he left, and after the hell she's been through with her checkered family, there's no way she's letting him into her life again. The problem is, the second she sees him, he's more handsome and charming than before. And she's torn between wanting to fight with him and wanting to sleep with him — Maybe both. Soon they fall into each other's arms, consumed with a desire that burns through the years….
23.  Amber Smoke (The Escaped #1) 
by
Kristin Cast
 Expected publication: June 9th 2015
Synopsis : There is a world that runs parallel to our own, a world in which the souls of the damned are caged, where they are looked over by the Furies, and where they spend eternity in torment, mirroring the devastation and mayhem they created when alive.
Someone has opened the cage.
The worst of terrors has crossed the barrier that separates our world from theirs, and the Furies send a great, albeit untested warrior—their only son, Alek—to try to bring those souls back. He is young and handsome, headstrong and impulsive, and he won't be able to do it alone.
Eva has grown up, beautiful and beloved, but surrounded by secrets. First, she will be hunted in an ancient feud that will threaten her life. Then, she will become the hunter.
24. Like It Never Happened 
by
Emily Adrian
 Expected publication: June 2nd 2015
Synopsis : When Rebecca Rivers lands the lead in her school's production of The Crucible, she gets to change roles in real life, too. She casts off her old reputation, grows close with her four rowdy cast-mates, and kisses the extremely handsome Charlie Lamb onstage. Even Mr. McFadden, the play's critical director, can find no fault with Rebecca.
Though "The Essential Five" vow never to date each other, Rebecca can't help her feelings for Charlie, leaving her both conflicted and lovestruck. But the on and off-stage drama of the cast is eclipsed by a life-altering accusation that threatens to destroy everything…even if some of it is just make believe.
25. Opening Up (Ink and Chrome #1) 
by
Lauren Dane
 Expected publication: June 16th 2015
Synopsis: The men of the Twisted Steel custom motorcycle shop are great with their hands… and they're not afraid to get dirty.
PJ is exactly the kind of woman Twisted Steel owner Asa Barrons doesn't need. The last thing he wants to do is mix business with pleasure, and PJ has some of the best custom detailing he's ever seen. But the chemistry between them won't be denied, and soon he's introducing her to a whole new world in the bedroom, pushing her far beyond anything she's ever experienced. PJ finds she can't get enough, but how far is too far before he consumes her completely?
26. The Book of Strange New Things 
by
Michel Faber
 Expected publication: June 23rd
Synopsis: It begins with Peter, a devoted man of faith, as he is called to the mission of a lifetime, one that takes him galaxies away from his wife, Bea. Peter becomes immersed in the mysteries of an astonishing new environment, overseen by an enigmatic corporation known only as USIC. His work introduces him to a seemingly friendly native population struggling with a dangerous illness and hungry for Peter's teachings—his Bible is their "book of strange new things." But Peter is rattled when Bea's letters from home become increasingly desperate: typhoons and earthquakes are devastating whole countries, and governments are crumbling. Bea's faith, once the guiding light of their lives, begins to falter…
27. Crushed (Torn #7) 
by
Pamela Ann
 Expected publication: June 22nd 2015
Synopsis : Amber's Story
Do you remember your first kiss? Not the I-dare-you-spin-the-bottle-kind, but the first kiss, kiss. You know, the one where you first feel your stomach somersault in anticipation and your heart pounds so hard against your chest, you think you're about to die on the spot.
That was Brody for me.
For years, I kept my mouth shut about how I felt about him because everyone knew Lindsey, one of my best friends, was in love with him. One drunken night in sophomore year, I spent the night in his arms. It meant everything to me, but sadly, I hadn't mattered to him….
28. Endgame (Night School #5) 
by
C.J. Daugherty
 Expected publication: June 4th 2015
Synopsis : Broken. Scattered. But not defeated.
The spy is gone but the cost has been high – the rebels at Cimmeria Academy have lost their leader and Carter West is missing. Nathaniel can taste victory. But Allie and the other survivors aren't done yet. First they have to get Carter back. Then they plan to make Nathaniel pay.
One way or another – the game must end.
 Expected publication: June 23rd 2015
Synopsis : After his mother dies, rock star Ace White—lead singer of the red-hot band Wicked White—is done with the celebrity game. The phony people, the meaningless one-night stands: he doesn't want any of it anymore. Quitting in the middle of a sold-out tour, Ace sets out to find some place—any place—where he can be alone.
Aspiring singer Iris Easton's life has never been easy. First, her mother walked out on her when she was a kid. Now she's buried in debt, weeks after losing her beloved grandmother. When a mysterious and sexy new guy moves in next door, Iris can't help but be drawn to his soulful gaze. She can tell there's something from his past haunting him—something he's not telling her…
Expected publication: June 9th 2015
Synopsis : The sensational new psychological thriller from the bestselling author of Before I Go To Sleep …She loves her husband. She's obsessed by a stranger. She's a devoted mother. She's prepared to lose everything. She knows what she's doing. She's out of control. She's innocent. She's guilty as sin. She's living two lives. She might lose both …
31. The Truth and Other Lies 
by
Sascha Arango
 Expected publication: June 23rd 2015
Blurb : Dark, witty, and suspenseful, this literary crime thriller reminiscent of The Dinner and The Silent Wife follows a famous author whose wife—the brains behind his success—meets an untimely death, leaving him to deal with the consequences.
"Evil is a matter of opinion…"
On the surface, Henry Hayden seems like someone you could like, or even admire. A famous bestselling author who appears a modest everyman. A loving, devoted husband even though he could have any woman he desires. A generous friend and coworker. But Henry Hayden is a construction, a mask. His past is a secret, his methods more so. No one besides him and his wife know that she is the actual writer of the novels that made him famous…
 Expected publication: June 30th 2015
Blurb : "Edgy and honest, Faking Perfect is the real thing." –Huntley Fitzpatrick
When Lexi Shaw seduced Oakfield High's resident bad boy Tyler Flynn at the beginning of senior year, he seemed perfectly okay with her rules:
Avoid her at school.
Keep his mouth shut about what they do together.
Never tease her about her friend (and unrequited crush) Ben.
Because with his integrity and values and golden boy looks, Ben can never find out about what she's been doing behind closed doors with Tyler. Or that her mom's too busy drinking and chasing losers to pay the bills. Or that Lexi's dad hasn't been a part of her life for the last thirteen years. But with Tyler suddenly breaking the rules, Ben asking her out, and her dad back in the picture, how long will she be able to go on faking perfect?
33. Mindwalker (Mindwalker #1) 
by
A.J. Steiger
 Expected publication: June 9th 2015
Blurb : At seventeen, Lain Fisher has already aced the Institute's elite training program for Mindwalkers, therapists who use a direct neural link to erase a patient's traumatic memories. A prodigy and the daughter of a renowned scientist-whose unexplained death left her alone in the world-Lain is driven by the need to save others.
When Steven, a troubled classmate, asks her to wipe a horrific childhood experience from his mind, Lain's superiors warn her to stay away. Steven's scars are too deep, they say; the risk too great. Yet the more time Lain spends with him, the more she begins to question everything about her society. As she defies the warnings and explores Steven's memories, it becomes clear that he's connected to something much bigger…
 Expected publication: June 2nd 2015
Blurb : *People would kill to be thin.*
Solu's luxurious celebrity-filled "Cruise to Lose" is billed as "the biggest cruise since the Titanic," and if the new diet sweetener works as promised—dropping five percent of a person's body weight in just days—it really could be the answer to the world's obesity problem. But Laurel is starting to regret accepting her friend Viv's invitation. She's already completely embarrassed herself in front of celebrity host, Tom Forelli (otherwise known as the hottest guy ever!) and she's too seasick to even try the sweetener. And that's before Viv and all the other passengers start acting really strange.
But will they die for it, too?
Expected publication: June 9th 2015
 Blurb : Tristan Wilder, self-made millionaire and devastatingly handsome CEO of Wilder-Nation is on the verge of a very lucrative buyout. With tough negotiations ahead, he's armed with his acquisition pitch, ready to launch the deal of a lifetime. There's just one glitch. The last thing he expects is to fall for the hot business owner he's trying to sway.
Dylan Reeves, computer science engineer and founder of the very successful social media site, Secret, is faced with a life-altering decision. A devoted family man with three kids and a wife, Dylan has been living a secret for years. Fiercely loyal to his convictions, his boundaries blur after meeting the striking owner of the corporation interested in acquiring his company. For the first time in his life, reckless desire consumes him when the gorgeous computer mogul makes an offer he can't refuse.
36. Those Secrets We Keep 
by
Emily Liebert
  Expected publication: June 2nd 2015
Blurb : From the author of  You Knew Me When  and  When We Fall
Three women. Three lives. Three secrets.
On the surface, Sloane has the perfect life—an adoring husband, a precocious daughter, and enough financial security to be a stay-at-home mom. Still, she can't help but feel as though something—or someone—is missing….
Hillary has a successful career and a solid marriage. The only problem is her inability to conceive. And there's a very specific reason why….
Coming: June 2015
Blurb : He's my art professor.
I'm his student.
With an electric connection and undeniable chemistry, I know it won't be long until one of us cracks.
When the opportunity arises to pose naked for the entire art class, I can't help the thrill of knowing he'll be watching me.
While they all look past me with their eyes narrowed and concentrated, drawing only the lines and angles of my body, he sees right through me down to my vulnerability.
He sees more than just the physical aspects—he sees me.
That's when I see the struggle in his features as he tries to stay in control.
How do we keep our distance when everything seems to be pulling us together?
What feels so right can only go wrong if we keep pushing the limits.
38. Charlie, Presumed Dead 
by
Anne Heltzel
   Expected publication: June 2nd 2015
Blurb : In Paris, family and friends gather to mourn the tragic passing of Charlie Price—young, handsome, charming, a world-traveler—who is presumed dead after an explosion. Authorities find only a bloodied jacket, ID'd as Charlie's. At the funeral, two teens who are perfect strangers, Lena Whitney and Aubrey Boroughs, make another shocking discovery: they have both been dating Charlie, both think Charlie loved them and them alone, and there is a lot they didn't know about their boyfriend. Over the next week, a mind-bending trip unfolds: first in London—then in Mumbai, Kerala, and Bangkok, the girls go in search of Charlie. Is he still alive? What did their love for him even mean? The truth is out there, but soon it becomes clear that the girls are harboring secrets of their own.
No one knows whom to trust in this thrilling tale of suspense and deception.
  Expected publication: June 2nd 2015
Blurb : Rachel Walker is devoted to God. She prays every day, attends Calvary Christian Church with her family, helps care for her five younger siblings, dresses modestly, and prepares herself to be a wife and mother who serves the Lord with joy. But Rachel is curious about the world her family has turned away from, and increasingly finds that neither the church nor her homeschool education has the answers she craves. Rachel has always found solace in her beliefs, but now she can't shake the feeling that her devotion might destroy her soul.
40. Be The One (Crave #2) 
by
Nina Levine
 Expected publication: June 26th 2015
Blurb : Presley & Jett's story continues.
Jett Vaughn has one thing on his mind these days – Presley Hart. He will do anything it takes to make her his. At least, he thinks he will.
Presley Hart wants one thing in life – a man who will make her his number one. After being married to a man who never put her first, she swore she'd never settle for second best again. At least, she thought she wouldn't.
When Jett's life comes crashing down around him, his flaws are laid bare for all to see. Presley stands by her man but there's only so much she can do to help him. She loves him and wants to be with him but she has her limits and Jett's about to reach them.
In the midst of hurt, loss and destruction, can love win out? Can a man who is struggling to find his way, show the woman he loves just how much he wants her to be the one? Or is there only so much a heart can take before enough's enough?
Source : Goodreads